Fertility Preservation
Vitrification and cryopreservation
Fertility Preservation in Gijon, Asturias
What is fertility preservation?
It is now possible for a woman to decide when it is the right time to start a family. Through cryopreservation we can freeze your eggs or sperm.
Male and female preservation
Egg freezing by vitrification for the female or sperm cryopreservation for the male. Thanks to medical advances we can maintain fertility in the future.
Waiting for the ideal moment
Male and female preservation
Vitrification and cryopreservation
What is fertility preservation?
Thanks to medical advances in assisted reproduction, it is now possible for women to decide when it is the right time to start a family. Factors such as the absence of a partner, work or economic instability push women to postpone the onset of motherhood and in many of these cases they are bitterly surprised to find that the wait has been harmful to their reproductive age. On other occasions the reasons are medical, due to the appearance of diseases at a young age that may compromise fertility once the disease has been overcome (cancer, lupus, endometriosis, etc.).
The solution provided by assisted reproduction techniques is to preserve fertility through cryopreservation.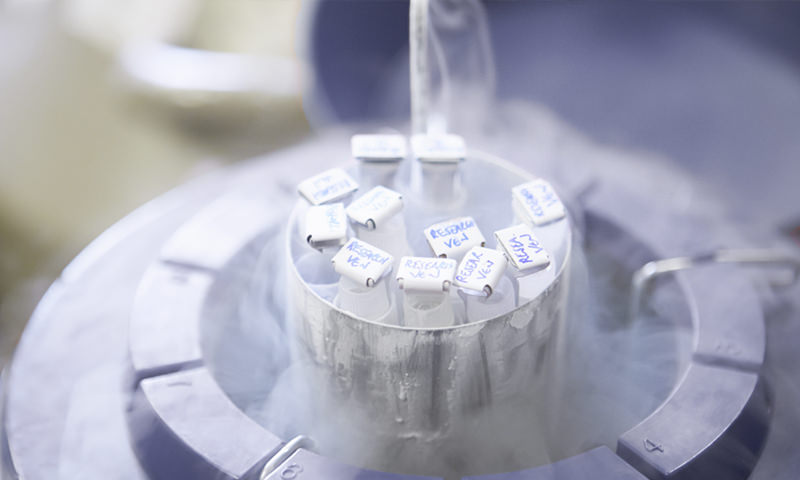 Female preservation
One of the most proven fertility preservation techniques is egg freezing by vitrification. This allows that, once the disease has been overcome or the ideal moment to become a mother has arrived, the woman can achieve a gestation with her own eggs.
This process consists of stimulating the development of several follicles, so that, under anesthetic sedation, and by aspiration, we obtain eggs. These are then vitrified and kept unaltered until the woman decides to have a child.
In the case of women over 35 years of age, a personalized assessment should be made. At all times, the patient should receive medical advice and clear information according to her age and ovarian reserve.
Pharmacological treatments for ovarian stimulation are tailored to each case, as in breast cancer, where protocols minimize estrogen levels. In these cases it is very important to act quickly. At the ERGO Clinic, we are fully aware of this, and we have a specially designed protocol so that fertility preservation does not delay the start of treatment.
Male preservation
It is carried out by cryopreservation of semen. The procedure of cryopreservation or freezing of semen is very common in assisted reproduction treatments since it allows the sample to be used if the male cannot attend the day of the treatment or if he has difficulties in collecting the sample at the right time. It is also especially useful in patients who are going to undergo treatments in which their fertility will be affected, such as vasectomies or chemo and radiotherapy treatments.
In the case of oncology patients, the preservation of male fertility plays a crucial role, since it will allow the patient to recover from cancer when, thanks to scientific advances, he can resume or consider the option of fatherhood. The chemo- and radiotherapy cycles affect testicular function, which will not be restored for several years.
Unfortunately, semen quality is often affected, and in some cases it does not recover. For this reason, sperm cryopreservation prior to cancer treatment is recommended. Early diagnosis of the disease and providing the patient with quality information on future reproductive options are essential for this purpose.
Sperm cryopreservation is carried out by means of a simple procedure in which the patient comes to the Clinic on several occasions -with sexual abstinence of between 3 and 5 days whenever possible- to leave semen samples obtained by masturbation. The samples will be frozen together with a specific medium inside different supports, which allows them to be kept in tanks with liquid nitrogen at -186 °C indefinitely. Thus the patient is assured that, even if the seminal quality on thawing decreases, he will always have the option of using these doses if he wants to become a father in the future.
Oocyte quality with Artificial Intelligence
Science is advancing by leaps and bounds, and it is now possible to classify the quality of oocytes thanks to artificial intelligence. Simply by taking a photograph of each oocyte, they are classified with a score, allowing us to know their quality, which until now was only subjective. This allows a woman to know the status of her vitrified oocytes for the future, to evaluate whether to accumulate them in another cycle to increase the options, or if there is a small quantity, their quality is good.
Frequently Asked Questions
Can all women preserve their fertility?
No, in order to preserve a woman's fertility with good guarantees of success, her age and ovarian reserve must be taken into account.
How is fertility preservation performed?
In order to preserve a woman's fertility, it is necessary to obtain her eggs through an ovarian stimulation and puncture treatment similar to that performed in in vitro fertilization (IVF). The eggs obtained are frozen using the vitrification technique.
How long can the eggs be frozen?
Eggs can be kept frozen for as long as necessary (years) without affecting their quality.
What do I have to do when I want to use my frozen eggs?
In order to use these eggs, they must be thawed in the laboratory to be fertilized with the partner's or donor's sperm. The embryos obtained will be kept in culture to be transferred 2 to 5 days later. Embryos that are not transferred will be vitrified. The patient must prepare her endometrium with a hormone replacement treatment with estrogens and progesterone to receive the embryos.
Need more information?
We are a team of more than 15 professionals specialized in assisted reproduction and women's health. Do you have any doubts? We invite you to meet us, your first visit is totally FREE.